COME LET US BUILD
Rev. Rod Ellis
; Elation Press 2016 weaves together the experiences of three men from different centuries bound together by faith in one true God Almighty.
Click Here to order this book
($20.00 including shipping).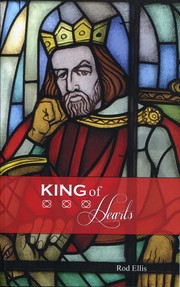 KING of Hearts
David: Man of Devotion, Living with Passion, power and Purpose.
12 key life principles from 1 and 2 Samuel which opens up our hearts to God,and reveals His heart to us.
Deliver Us From Evil
,
2016
The Remarkable True Story of a Child's Abuse, Spiritual Deception, Deliverance and Ultimate Redemption.
Safety, Acceptance, Belonging. These words come to mind when we hear about families. Having a mother, father, and twelve siblings living in a strong Christian faith should mean plenty of love, laughter and companionship.​ ​ But what if, inexplicably, one's parents selectively manipulated and mistreated some of the children and not the others? ​How would you deal with being one of three children who constantly bore unprovoked wrath and abuse — while watching the others receive the love, affirmation and nurturing you so desperately needed and craved? ​ Would you ask yourself if your life was worth anything to anyone at all? ​ Would you feel that God had overlooked and abandoned you? ​ Would you despair of God for being unresponsive when you cried out for relief? Ron Corcoran's frank and honest memoir courageously proclaims that no matter how wretched, broken or angry we may be, we can indeed be delivered, redeemed and transformed by the love of the living, eternal God.
Order this book directly from Ron for $21.50(CAD):
THE BISHOP OR THE KING
How The Anglican Church Of Canada Has Failed To Defend Its King (DVD Included)
Ron Corcoran
; Essence Publishing 2009;
2nd printing is the Study Guide Edition 2011
JESUS, REMEMBER ME
Ron Corcoran,
On that day that changed the world, three men were crucified on a hill outside Jerusalem.  Two of these men were violent criminals. The third was God Incarnate. To His left, died a man mocking and cursing.  To His right, died a man who cried out to his Saviour, "Jesus, Remember Me." Journey to the foot of each cross as these men face suffering and death. Then decide: If the two men who died next to Jesus Christ, whose cross would you choose?